Individuals using EZER
How do you get larger items home when you do not have a truck? Do you rent a truck, disturb a friend, or just wait for the store to deliver the item? There is no need for the trouble and delays, EZER is here to help.
That day will come when you need something picked up and delivered that will not fit in your vehicle and you need it right away. Save time, the headaches and hassles by keeping the EZER App on your phone.
Drivers with EZER are screened, background checked and ready when you need. EZER carries $1,000,000 general liability policy to protect your items from beginning to end.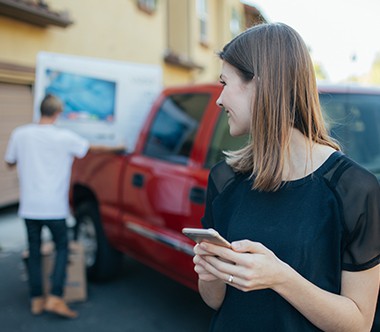 >
Getting larger items or multiple items picked up and delivered when you want it and where you want it is now as easy as a few clicks.
The EZER app connects you directly with drivers of pickup trucks, cargo vans and SUVs in your area. You simply type in where to pick up, give a description, take a picture(s) of the item(s), key in to pick up now or a later date and time, set a delivery address and you are all set.
You can have it picked up while you are there on site or put the items on Will-Call and EZER will pick them up and deliver them for you. The system will locate an available driver in your area and get the items moving as you requested.